July-August 2018 On the Road, Day 2-3 Valparaiso IN
We are reminded by family, friends, acquaintances and the Internet to put down our electronic devises and to be "in the moment." That works well--until you try to blog about your adventures.
We arrived in Valparaiso Indiana to visit Sandy, Courtney's mother-in-law. For the second year in a row, husband Tom was on a business trip. We arrived soon after Sandy finished working for the day and dinner out was a wonderful idea. We went to Pesto's, a wonderful Italian restaurant with a great dinner buffet.
After visiting for several hours in their wonderful sun room we retired for the night. It is always fun to catch up and also to discuss the doings of our children and grandchildren.
The next morning Sandy took us to one of her favorite local attractions, the Gabis Arboretum. It is a large area filled with several different gardens. Once again, I was "in the moment" and I failed to take pictures of the first three areas we visited, two Rose Gardens and the Adventure Garden. I did take a photo of the guide to the garden.
Next we went to the Railway Garden and we learned what makes this place so special. It is several G-scale model railway loops built on almost one acre of land. There are easily accessible walkways surrounding the displays that invite you to become immersed in the history of the American steam engine. Depicted are towns, cities, rural areas and even a quarry. There are mountains, streams, bridges, canyons, and the prairie set among plants and miniature conifers. Each scene is filled with trains, buildings, people, animals, bridges and plants.
Even more amazing is that each fall, before the snow begins, volunteers and staff remove everything but the tracks and bridges to store it until spring. There are thousands of items in the display. Be sure to click the Railway Garden link to learn more about this amazing place. This post continues below the photos.
A trip to Valparaiso would not be complete without a stop at the Albanese Candy Factory and Outlet. While this is probably the biggest candy store I have ever visited, their five-pound bags of seconds for only $6.00 are an amazing deal. We purchased several to share and gift to friends and family along our route. Once again, being "in the moment" I failed to take my own photos, so these were found on the web.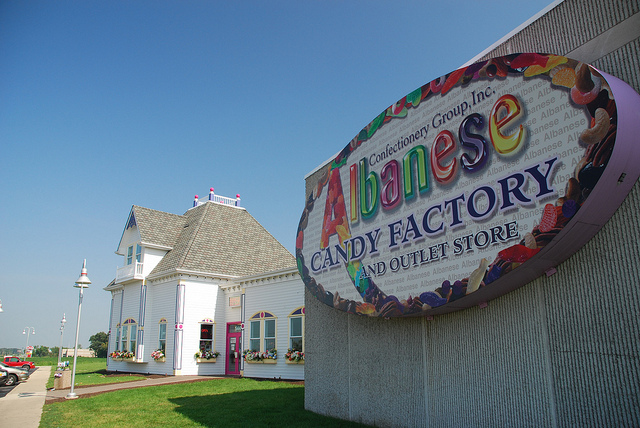 After lunch In the downtown mall area of Valparaiso, we went to the Horne lake house in La Porte IN for a ride on the lake. Again, no photos were taken. We ended the day with a tasty spaghetti dinner prepared by Sandy and more visiting. We left early the next morning to continue to the MacStock Expo.
—Pat and Ron